Recommendations
This webpage is an ongoing list of interesting, worthwhile things I've found. I'm excluding great things that are well-known, since there's no point in recommending something most people already know about. For example, the New York Times podcast 'The Daily' is great, but its already one of the most popular podcasts in the world.
Index
Games
Baba is You (2019)
Baba is You is a collection of very difficult logic puzzles, which are solved by the player manipulating the laws that govern the enviroment and objects therein.

Philosopher C. Thi Nguyen has argued Baba is You is an excellent example of how games can be art even when they aren't cinematic and don't have a story—that just pure logic and puzzle solving can become a form of art.
Genesis Noir (2021)
In Genesis Noir you assume role of a god who assumes the appearance of a jazz loving film noir style detective. He travels through space and time altering the development of the universe, organic life and humanity.

This game really delivers in exploring themes in cosmology, philosophy and religion. The visuals, sound and animation are beautiful. This game is really art in a traditional sense.
Since it's primarily art (to be experienced and analyzed), the game itself and the puzzles are pretty straightforward.
Grandia (1999)
Grandia is a 1999 Japanese role playing game for the original Playstation. I played it as a kid shortly after it was released and it was one of my favorite games (although I never beat it). I replayed the game and finally beat it 20 years later in late 2021 / early 2022. Although clearly designed for kids, this is a great game that held up very well 20 years later.

Aesthetically, the game starts off in a Victorian steampunk 'old world', and ends in a fantasy infused frontier continent (early America mixed with Lord of the Rings). The game tells the story of a young 'adventurer' in the old world, who sneaks away from home to board a steamship to the 'new world' in in search of adventure. He finds friends and adventure and gets mixed up in a supernatural conspiracy along the way.
Turned-based Japanese RPGs aren't as popular as they used to be in the 90s and early 00s, and they could be tedious even back in the day. However, Grandia really had a rich combat engine where time (how long things take) and space (where characters are on the field) matter. I love how the combat engine allows players to create and deploy different strategies for different types/configurations of enemies.
There's an HD Remaster of Grandia that's available on PC and Nintendo Switch. At risk of sounding obsessive, I'd try to stick to playing the original on something like RetroArch since the original art wasn't designed to be high definition, and when artists and AI try to make sharper it often looks weird and blurry. RetroArch offers tube TV shaders that emulate the scanlines and distortions found in American (NTSC) TVs common in 1999. By projecting the original image onto a emulated CRT display, it can enlarge the screen while keeping the art looking the way it's intended to. Compare the original game with RetroArch's shaders to the HD Remaster below, and click to compare at higher resolutions.

According to the games clock it took me 99 hours and 35 minutes to finish, including the difficult hidden dungeons. Most people can beat the game in about 50 hours if they aren't doing the hidden content and spending extra time leveling. Despite it's length it didn't feel tedious; there's a lot of story and exploration and it really gives the player the feeling of being on an adventure.
Stardew Valley Expanded (2019, ongoing)
When I was in high school, I was obsessed with a Japanese farming/life simulation game called Harvest Moon: Back to Nature (1999) on the Playstation. It was sort of obscure at the time but I put hundred of hours on it.
In 2016, an American developer single-handedly wrote his own game in the tradition of Harvest Moon. Through deep understanding and appreciation of the original, he really improved upon it. While Harvest Moon games in the 90s were boutique games, Stardew Valley sold over 20 million copies -- it was a minor cultural phenomenon by the time COVID happened (the perfect quarantine game).
Part of what makes Stardew better than Harvest Moon is how much more content it has, and in 2019 a fan made addition to the game added a ton of more content: 27 new NPCs, 50 locations, 260 character events, 27 fish, reimagined vanilla areas, two farm maps, a reimagined world map reflecting all changes, new music, questlines, objects, crops, festivals and more.
I like Stardew Valley Expanded because it shows how a truly great idea can take almost 30 years, and many different people to become fully realized. It's also likely that the environment wasn't right for Harvest Moon to flourish in the 1990s. Since the 90s, digital distribution systems like Steam became widespread and quirky indie games became mainstream, and these may have been necessary for Stardew Valley to achieve its massive sales numbers.
Stray (2022)
Stray is a 2022 independent game where you play as a cat. It got internet famous before its release due to its subject matter.

And it delivers on the cat experience. You get to meow, rub up against things, scratch--and more. The cat you play as moves and animates with great feline realism. However, the game is much more than just that...
It's also a post apocalyptic science fiction game. Your job is to explore and learn about the humanless world the game is set in. The game takes place throughout a city populated entirely by robots--designed by humans who embody human characteristics. While exploring you find out what happened to humans, exactly how far in the future you're living in, why the surreal landscape is the way it is, and what lead to the apparent human extinction.
Like many, I came for the cat game, but stayed for the beautiful, surrealistic Sci-Fi world. This game is a work of art I think will be played and enjoyed for decades to come.
Podcasts and other audio
It's a Thing
Podcast hosted by Tom Merritt and Molly Wood about recent trends in popular culture and technology.
I love finding out about what new things people are doing. Often new things people are into are cool and become things I have get into. At the very least, knowing what people are up to gives you sense for which direction the winds of culture are blowing.
Tom and Molly are great hosts who I've been listening to since they hosted CNET's Buzz Out Loud from 2005 t0 2010. For context, iTunes added podcasts in June of 2005 (podcasts had several proto-forms birth of the contemporary podcast) and Buzz Out Load launched in March 2005.
A small sampling of "things" I've learned about ahead of the curve thanks to this podcast:
This podcast is a great respite from news and politics.
Chinese Whispers
Podcast hosted by Cindy Yu about life in China, economic conditions, chinese national politics, global politics, culture and history. Her podcasts typically consists of her interviewing one or more experts (usually established professors and journalists) about the areas of their expertise.
In my opinion, what makes this podcast special is that I perceive it to be relatively ideologically neutral. I'm interested in China, but looking for information you find there's a creepy tendency for media to be

really

pro China or

really

against it. Cindy Yu defends China and tries to present things from a Chinese point of view, while owning up' when things are problematic and invites guests on who are often critical.
Hosted by The Spectator, which this podcast seems editorially independent from and I don't endorse (it's a British magazine, which, if you're an American, you might understand as being cross between The New York Post and The New Yorker).
Hitchhiker's Guide To The Galaxy (BBC Radio 4, 1978)
The Hitchhiker's Guide to the Galaxy (HHGTTG) is a legendary comedy science fiction franchise which is often referenced in programming and computer science (for example, when arbitrary variables are assigned as '42', Yahoo's old service Babel fish, and the chat software Trillian).
I used to believe Douglas Adam's 1979 HHGTTG novel was the original work the franchise was based on. However, a 1978 BBC Radio 4 radio drama, which also written by by Douglas Adams, actually predates it by a year and a half.

The HHGTTG 2 original radio drama seasons (1978 and 1980) are brilliant, and play as well today as I imagine they did when they came out. They're laugh out loud funny, a little bit profound, clever, delightful and I couldn't recommend them enough. They are available for free on Archive.org (if you know how to get and play MP3s on your phone) or you can buy them on Audible.
Headphones and Accessories
Sony MDR7506 Headphones
These are fairly cheap ($100) wired 'studio' headphones that I've been using since 2012.
These headphones crispy and accurately reproduce sound the way it's intended to be heard. If I'm watching a Netflix show with these headphones, I feel confident what I'm hearing is pretty close to what the audio engineer was hearing when the sound was being mastered.
I've gone through 3 of these in 10 years, so these things are cheap and produce high quality sound, but they aren't that tough.
AfterShokz Aeropex Headphones
~$130 bluetooth 'bone conduction' headphones
If you hike, walk, exercise or use a laptop in a room with other people, 'bone conduction' headphones will make your life better, because they don't cover your ears

at all

. With totally uncovered ears you can stay connected with your surroundings when hiking, walking or just using headphones with other people around.
Sound quality is passible, but not great compared to earbuds or over-ear headphones in the same price range. These won't be anyone's main headphones, but they are unbeatable if you want to listen to a podcast on a walk (and hear bikes coming up behind you) or practice Spanish on your phone while in a room with others (and not ignore them).
I only have experience with AfterShokz Aeropex, but what I'm really recommending is that everyone have a pair of> 'bone conduction' headphones for when they need to be aware of their surroundings.
Software
Photomatix
Photography software that can create neat effects by combining raw digital pictures taken at different exposures (known as HDR).
I've used this software to create photos like the second below from the first.

Shot 5.11.2008, Canon Rebel XTi



Photomatix was first released in 2003; I've been using it since 2008.
I'm a bit stuck in my ways, but Aurora HDR is another competing piece of software that might actually be better.
Trey Ratcliff, whose moniker is StuckInCustoms, has an influential travel blog where he uses a lot of HDR. He helped popularize the style and apparently had some roll in developing the Aurora HDR software. I think I learned how to use Photomatix with one of his tutorials (long before Aurora HDR existed)
RetroArch
This software emulates the experience of playing old games on a computer. As as a nostalgic aging guy, I often want to play games that were popular with when I was a kid. Not long ago I played several of these games (Grandia [1997], Final Fantasy VII [1997], Final Fantasy IX [2000], and Final Fantasy X [2001]) and found that playing the most recent PC conversions didn't feel like authentic representation of the experience.
I think part of the problem is these games' art isn't intended to be shown on a 4k screen with perfect color. In some games, like Grandia and FFIX the art was upscaled to look better than the original, but in my mind that is like colorizing a classic black and white film.
A solution that RetroArch (and many other modern emulators) offer is shaders, which use algorithms to emulate the imperfections you get from an CRT display. This isn't an option with most stand alone modern adaption of these games. See before and after pictures applying my favorite CRT shader, the koko-aio NTSC shader, found within the Bezel directory in RetroArch. Click for full size images.
Without buying an antique TV, I would say the most authentic way to experience most old games is by running shaders with RetroArch on a laptop with a modern TV and gamepad.
Walking and Hiking
Birch Meadow Preserve
Stamford, Fairfield County, CT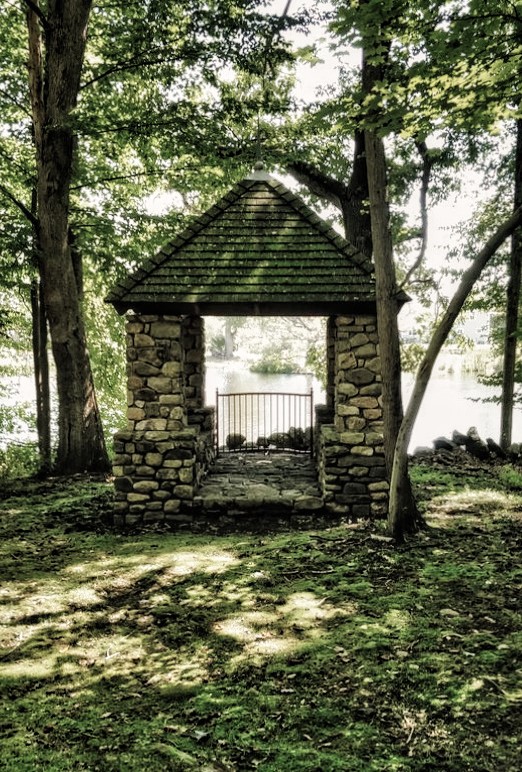 A fairly small, generally empty nature preserve hidden deep in a residential neighborhood in North Stamford. Since it's small you'll find yourself going in circles a few times, but really appreciate the solitude that this spot has to offer.
There's a very old looking stone gazebo overlooking the water a few hundred feet from the entrance (pictured above). I've had a picnic here before, and, I must say, with the view of the water and the seclusion of the area, it's a lovely spot for a picnic.
Marsh Sanctuary
Mount Kisco, Westchester County, NY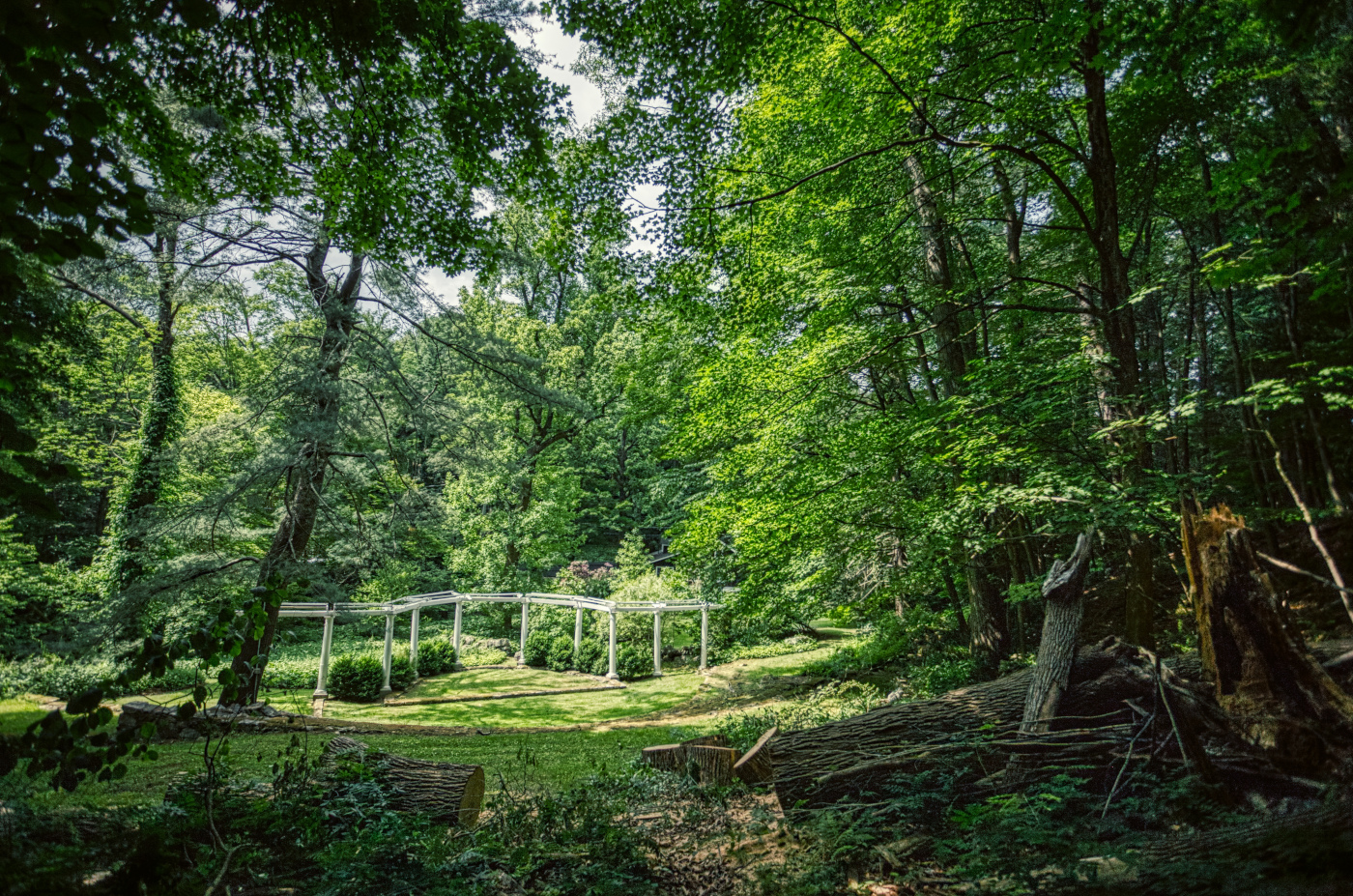 I've been visiting this spot since 2011 when I need a peaceful place to reflect.
I always sense that this place has a very peaceful aura. This may be partially because you won't see too many people around, except for maybe a teacher and some kids in around the Field parking lot.
My favorite walk is parking off Route 172 (Brookside Parking), taking the red trail to the Field Parking Lot, then ascending to the hilltop by the water tower (41.190960, -73.713379) on an unmapped trail. It's less than a mile both ways but it's a beautiful mix of scenery (woods, swamp, pond, field, hilltop, vista) and not bad exercise since its got a lot of hills.
Also check out the adjacent Leonard Park, with a great free disc golf, a pagoda by pond, free tennis and outdoor seating for picnics.
Yorktown Parking: North County Rail Trail
Yorktown, Yorktown Heights, NY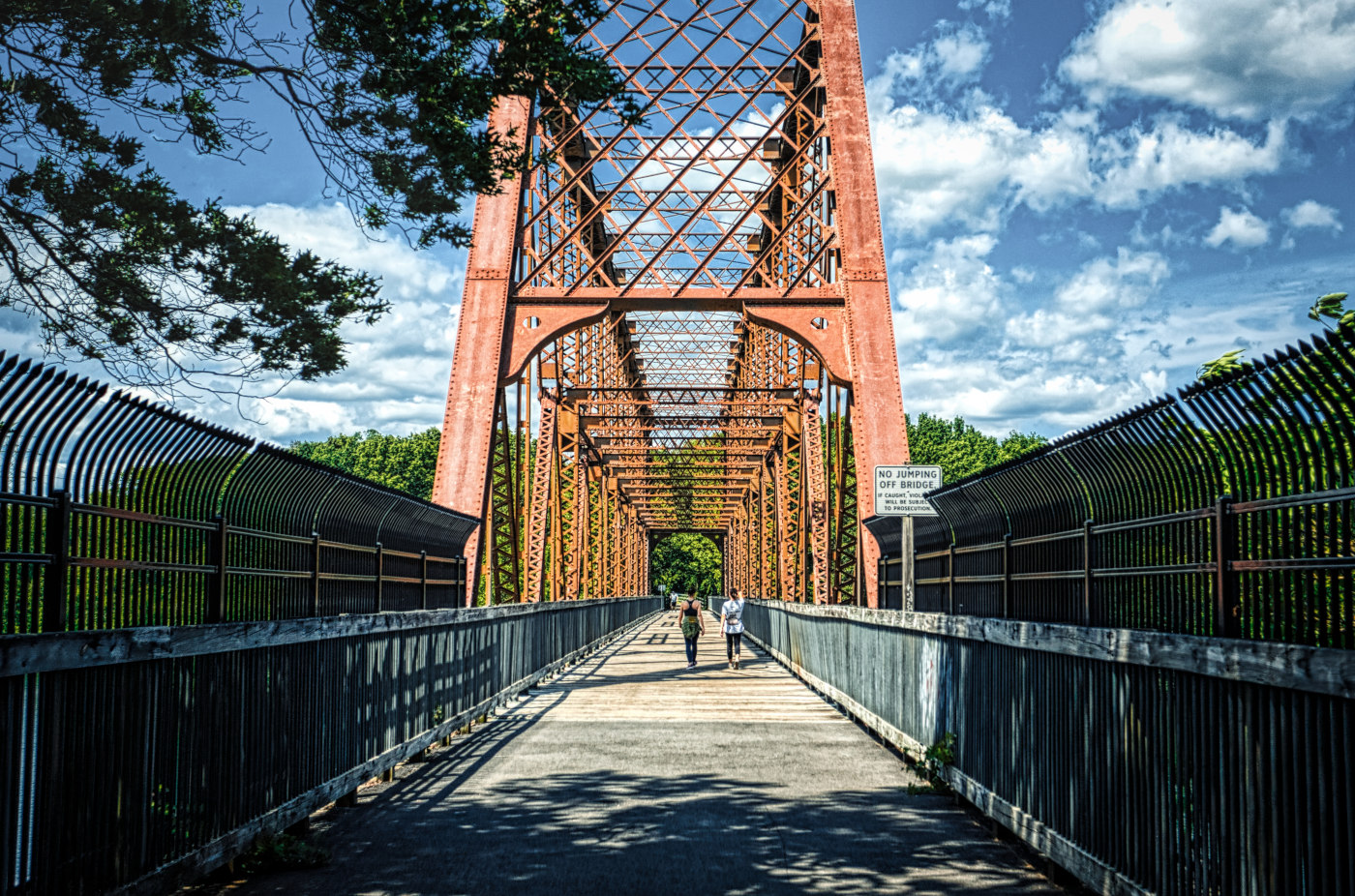 Shot 6.5.2023, 2:30pm, Canon 5D
North County Rail Trail is a beautiful 22 mile long trail. The above link is to a great parking area for the trail, where either direction you go you end up in a pretty picturesque area. If you head slightly downhill you cross a fantastic railroad bridge (pictured above) and if you head slightly uphill, after a few miles you will be in the beautiful downtown of Yorktown. There are many lovely places to eat there.
This is once of the most scenic places to ride a bike I've found within an hour of Stamford.
Last updated 6.6.2023, added Stardew game and Yorktown trail